News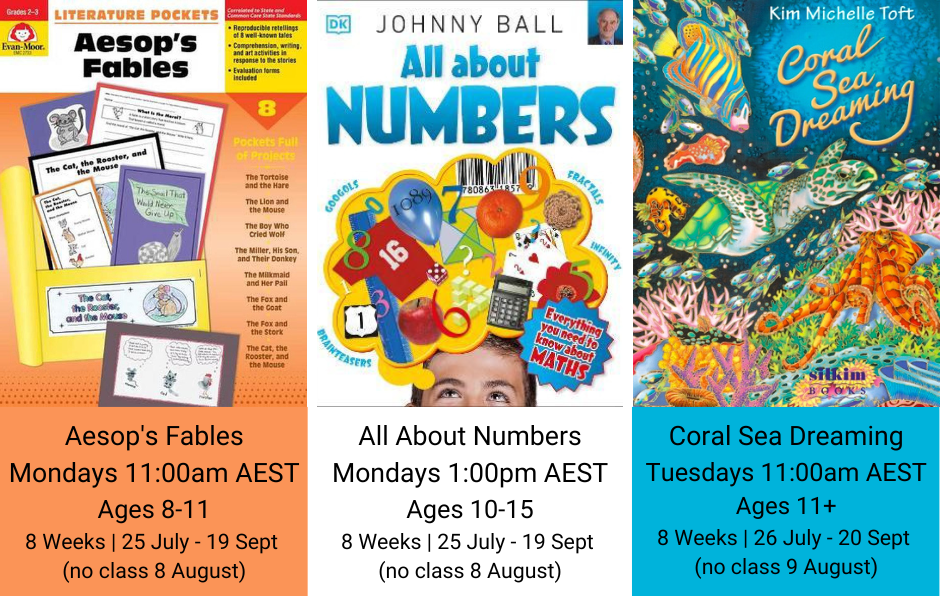 Term 3 Online Classes
Simply Homeschool
/
27 June 2022
Enhance your learning journey with an interactive and engaging online class from Simply Homeschool.
In Term 3, we are offering Aesop's Fables Literature Pockets (Ages 7-11), All About Numbers Part 2 (Age 11+) and Coral Sea Dreaming Part 1 (Age 10+).
Leap into Literature Pockets and Write in Colour with the wonderful creatures of Aesop's Fables. Write your very own fable! Create a movie script! Learn the basics of filmmaking and bring your fable to life as a stop motion video! These famous fables will tickle your imagination – and each story has a simple truth to share.
All About Numbers Part 2 covers the second half of the Core. It is great for those who love Maths... and those who hate it! Be inspired by tessellations. Create your own hexaflexagon and sonobe octahedra. Design a maze, slide into symmetry, take a chance and probe probability, find fractals and love logic! Rediscover the past with a fabulous lineup of famous, ancient mathematicians!
Dive into Coral Sea Dreaming Part 1 - a fabulous follow-on from A Sea of Words, or great as an introduction to Write in Colour for older students. And author and illustrator Kim Michelle Toft will teach the art! Learn research skills and note-taking, build wordbanks, and conquer sentence starters. Develop art techniques for basic lines. Study sketching, balance blending, look at light and practice perspective.
Note - Coral Sea Dreaming Part 2 is planned for Term 4. All online classes are suitable for full members only as you need access to all lessons.
For more information on each class, or to secure your spot, head to the Simply Homeschool Resource Shop.
< Back